GMHP
GOURMET, MUSHROOM & HEALTH PRODUCTS
Making food personal again!

Gourmet Products with a Commitment to Social and Environmental Responsibility
Our Vision & Mission: To make food personal again through the development of mushroom kits & mushroom products that educate, inspire, and nourish, one family at a time.
GMHP has been providing unique Gourmet Mushroom growing kits and other quality products to the public since 1989. Our Mushroom Log growing kits were developed and are produced specifically for mushroom cultivation in your home. Ours kits are shipped directly to our customers so when they arrive the kits have maximum potential for producing mushrooms!

Earth Friendly: GMHP feels that efforts should be made to conserve resources and sustain our planet: Our office, laboratory and packing area are Solar Powered. We use a Zero Air Pollution electric car for local transportation. Our catalogs are printed on a sustainable resource: Eucalyptus paper. All components of our Mushroom Kits are recyclable as are all materials used to pack and ship them. Materials are also recycled to pack the coffee we ship. In this age of global warming and other environmental issues and disasters, consumers should turn to products that offer EcoEthics: recycled products, recyclable products, and products grown using sustainable, natural growing practices. Instead of having to change your entire lifestyle, allow yourself to go green and consume more ethically in little steps. Mushroom logs produced through methods that integrate cultural, biological, and mechanical practices that foster cycling of resources, promote ecological balance, and conserve biodiversity.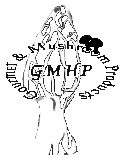 Certified Organic: Mushroom Spawn & Nutraceuticals Grown by Gourmet Mushrooms are Certified Organic by Quality Assurance International (QAI). Since 1989, Quality Assurance International has been providing the highest level of organic certification service to its growing number of clients. In keeping with its 'ahead of the curve' reputation, QAI continues to deliver cutting edge certification programs. Currently, QAI offers organic certification under the National Organic Program for Producers, Processors, Private Labelers, Distributors, Retailers, Restaurants, Wild Crop Harvesters, Greenhouse, Mushrooms, Hydroponics, and Facilities.

Personnel at our production facility in Sonoma County, California have pioneered exotic mushroom cultivation for over 30 years and are considered a world leader in this field. Based on the research of Dr. Tsuneto Yoshii of Japan and the continuing close relationship, GMI was first to commercially cultivate Shiitake in the Western Hemisphere, and to develop cultivation of the Pompon Blanc™ (Lion's Mane) Mushroom. The company supplies the finest chefs in North America.


GMHP has been providing unique Gourmet Mushrooms growing kits and other quality products to the public for over 26 years. Our Mushroom Log growing kits are seeded with Certified Organic mushroom spawn and were developed and are produced specifically for mushroom cultivation in your home. Mushroom Plug Spawn is produced for inoculating logs & stumps at your home. The Morel Habitat Kit™ was developed so everyone could enjoy growing their own morels in their own backyard and have a personal supply of fresh morel mushrooms to eat each spring. All of our mushroom growing kits allow you to participate in sustainable growing practices. All of our Mushroom Kits and Plugs are produced grown using sustainable, natural growing practices. We also carry Organic Mushroom Nutraceuticals and Herbs, Gourmet Foods, Flowers and Mushrooms Posters.

After a trip to Costa Rica, we fell in love with Costa Rican Coffee and decided to import the best fair trade coffee we could find, have it hand crafted and custom roasted, and share it with friends and customers in North America.

Privacy Policy: We value you and respect your privacy. We promise not to sell, share or use your information without your permission.

Return Policy: Mushroom Kits may be returned for a refund of the purchase price. Other products which are returned in received in unused or undamaged condition may be returned for a refund of the purchase price. There is a $10.00 re-stocking fee. Products which are returned because they were received in a damaged condition will be replaced at no charge. Unused or unopened product can be returned after purchase; include a copy of your receipt or packing slip. This will ensure a speedy credit to your account. All returns must be received in unused or undamaged condition for a full credit. Inspect your package upon delivery for any damage; if your shipment is damaged note the damage with the driver immediately, this includes documenting any damage on the lay bill for all freight deliveries; USPS you may "refuse delivery" before opening shipping package and the package will be returned to us at no charge to you. Have your order number ready if you call for a speedy resolution. Customer service can be reached Monday thru Friday 9:30-4:00 PT or by email: gourmet@gmushrooms.com




GMHP, P.O. Box 515, Graton, CA 95444

Tablets & Smart Phones Site
Phone:707 829-7301
Fax: 707 823-9091
Toll Free Order Line: 800 789-9121

gourmet@gmushrooms.com
| | | |
| --- | --- | --- |
| | Electric Car & Solar Panels | |
Copyright 1997 - 2021 GMHP