SELECT MUSHROOM BOOKS
BOOKS & DVDS
BOOKS ABOUT MUSHROOMS: MORELS - COOKING MUSHROOMS - IDENTIFYING MUSHROOMS - GROWING MUSHROOMS - MUSHROOM FOLK LORE - MUSHROOM PHOTOGRAPHY - HEALTH & NUTRITION - GOURMET MUSHROOMS - NUTRACEUTICALS - MEDICINAL MUSHROOMS - EDIBLE MUSHROOMS - MUSHROOM POSTERS - MOREL HUNTING - MOREL HUNTERS DVD - MOREL MOUSE PADS - LET'S GROW MUSHROOMS! - 2 DVD Set - THE GOOD, THE BAD, AND THE DEADLY DVD

The Good, the Bad, and the Deadly DVD
Knowing the Poisonous Mushrooms: The Good, the Bad, and the Deadly teaches you the basics about toxic mushrooms and their edible look-alikes. It's an essential tool for mushroom hunters, cooks, parents, pet owners, and medical professionals.
The Good, the Bad, and the Deadly is delivered in Lockwood's lively, down-to-earth style and features his beautiful mushroom photography.
Part One: Introduction and Background; Part Two: Basic Mushroom Identification; Part Three: Mushrooms by Groups of Toxins

Format: NTSC anemographic (both standard and wide-screen TV) - Main Program 50:30 - with Extras approx. one hour - Part One: 12:11 - Part Two: 11:36 - Part Three: 26:28
The Good, the Bad, and the Deadly DVD $24.95 + S/H

Mushrooms Demystified
by David Arora. A Comprehensive Guide to the Fleshy Fungi. "This is the top of the line in single volume (mushroom) identification guides ... thousands of species, macroscopic keys, splendid illustrations, perceptive and engrossing text..." MUSHROOM THE JOURNAL. 1020 pages. Over 700 B&W photos and 250 COLOR photos; 80 pg full color; index; bibliography. $39.95 + S/H

North American Mushrooms
by Dr. Orson K Miller & Hope H. Miller. A Field Guide to Edible and Inedible Fungi.. The definitive guide to the fungi of the United Sates & Canada. A comprehensive book for expert & amateur alike. Detailed & informative descriptions, crucial identification keys. 583 pages. Over 600 Color Photographs; Line Drawings. Glossary, index. $25.95 + S/H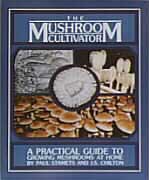 The Mushroom Cultivator
by Paul Stamets and J. S. Chilton. A Practical Guide to Growing Mushrooms at Home. Easily the best source of information on mushroom growing in general and on growing mushrooms at home. Techniques for sterile culture and spawn production to growing mushrooms on the kitchen table, in a small scale growing room, or in the back yard. 415 pages. 242 B & W photos and illustrations; color plates; extensive appendices of useful information; index. $34.95 + S/H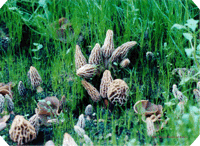 FULL COLOR MOREL MOUSE PAD

| | |
| --- | --- |
| | Cloth Surface/Rubber Backing |
| | 8" X 9.5" |
| | 3/16" Thick |
Morel Mouse Pad $8.95 + S/H

Cultivating Mushrooms
By Stephen Russell. Simple and Advanced Techniques for Growing Shiitake, Oyster, Lion's Mane, and Maitake Mushrooms at Home. With clear instructions and step-by-step photographs, this comprehensive guide shows you how to cultivate mushrooms in your own home, producing shiitakes, oysters, lion's manes, maitakes, and portabellas for your kitchen or for a small business. Beginners will learn the best way to use a mushroom kit, as well as how to maintain the sterile procedures and controlled environment that cultivation requires. Novices and the more experienced will learn how to create grain spawn or sawdust spawn and how to use liquid cultures and fruiting chambers. Advanced readers will gain a thorough knowledge of how to work with large-scale grain spawn, agar, bag cultures, bulk substrates, and large fruiting chambers to produce mushrooms consistently and in greater quantity. Soft Cover. 232 pg. Color Plates. $24.95 + S/H

The Totally Mushroom Cookbook
by Helen Siegal & Karen Gillingham. Inventive recipes for mushrooms and soup, salad, appetizers, stuffing, entrée... 95 pages, line drawings. $6.95 .
Click Here for more information.

Sugars That Heal
by Emil I. Mondoa, M.D. & Mindy Kitei. Sugars That Heal offers a revolutionary new health plan based on the science of glyconutrients--foods that contain saccharides. It gives authoritative guidance for getting all eight saccharides conveniently into your diet through supplements and readily available foods, as well as detailed information on correct dosages. Here, too, are chapters dealing with the special nutritional needs of people suffering from cancer, heart disease, asthma, and neurological disorders, and methods for using glyconutrients to treat depression, obesity, and ADHD. Soft Cover, 288 pages, bibliography, glossary. $13.95 + S/H


Healing Mushrooms
by
Dr. Georges M. Halpern.
Effective Treatments for Today's Illnesses
For over five thousand years, mushrooms have been used as an effective medicine. Now, researchers are rediscovering the amazing value of these
medicinal mushrooms
. 208 Pages pages, index. $15.95 + S/H


Medicinal Mushrooms
by Christopher Hobbs An Exploration of Tradition, Healing & Culture . Medicinal Mushrooms is a modern handbook for exploring and understanding the rich traditions of healing fungi in Eastern & Western cultures. Medicinal Mushrooms is a complete work on the cultural, health-promoting and medicinal uses of mushrooms. 251 pages, index, line drawings. $20.95 + S/H

Growing Gourmet and Medicinal Mushrooms - Third Edition
by Paul Stamets. Cultivation techniques and growth requirements for 25 types of mushrooms. Includes state-of-the-art production techniques for home cultivation of mushrooms. 574 pages, 390 figures & b/w plates; 58 color plates. $45.00 + S/H


Let it Rot!
by Stu Campbell. The Gardeners Guide to Composting. Campbell simplifies the technical terminology to make composting easy and illustrates the correct material and some of the methods which can be used for your Morel Habitat. 160 pages. Line Drawings; index. $12.95 + S/H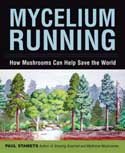 Mycelium Running
by Paul Stamets. How Mushrooms Can Help save The World. The science is simple. In Mycelium Running, Stamets discusses the various branches of this exciting new technology, including mycorestoration (biotransforming stripped land), mycofiltration (creating habitat buffers), myco-remediation (healing chemically harmed environments), and mycoforestry (creating truly sustainable forests). Also featuring instruction in the fine art of mushroom cultivation and tips for choosing the appropriate species of fungi for various purposes. 352 pages. Many color plates, Glossary, Bibliography. $35.00 + S/H


VISA - MASTER CARD - DISCOVER - AMERICAN EXPRESS
Gourmet Mushroom, P. O. Box 515 IP, Graton, CA 95444

Copyright GMHP 2000 - 2021 GMHP