Gourmet Mushroom Recipes
Fresh Mushrooms, Dried Mushrooms, Mushroom oils
Chef Bob Engel, formerly of Topolos Russian River Vineyards, Sonoma Country, California has presented classes on mushroom cookery to the Culinary Institute of America and the COPIA American Center of Food and Wine. Engel says, "Exotic mushrooms are the newest addition to the chef's palette. Exotic mushrooms have a natural savory character -- what chefs call umami -- which blends easily into a wide range of dishes. No single ingredient offers so much in eye-appeal, texture and flavor as mushrooms do."
Morel Mushrooms, Shiitake Mushrooms, Chanterelle Mushrooms, Black Trumpet Mushrooms, Cepe Mushrooms, Porcini Mushrooms, Oyster Mushrooms, Pleurotus Mushrooms, Portabella Mushrooms, Crimini Mushrooms, White Truffle Oil, Black Truffle Oil
Consider Substitutions: These recipes feature favorite mushrooms in them. However, just about any mushroom or mushroom oil can be used in any mushroom dish.
MOREL FONDUE

Cut French or Italian bread into 1 X 1 X 3/4 inch pieces
Sauté: in butter; morels halved (lengthwise) or coarsely chopped; salt (or garlic salt) to taste, either:

1/2 lb. fresh morels OR

Grate:

| | |
| --- | --- |
| | 1 lb. cheese (preferably un pasteurized) |

Place in pan (you may rub sides with fresh garlic first):

| | |
| --- | --- |
| | 2 cups dry white wine |

Heat wine until just below boil, stirring constantly and vigorously with a wooden spoon:

| | |
| --- | --- |
| | Add cheese a little bit at a time |
| | Add morels a small portion at a time |
| | May be seasoned to taste with pepper & nutmeg |

When all the cheese and morels have been added transfer to a fondue pan over low heat.
Use Fondue fork to dip cubes of bread into Fondue. Enjoy.
Umami: When we eat, we use all of their senses (sight, hearing, smell, touch and taste) to form general judgments about their food, but it is taste that is the most influential in determining how delicious a food is. Taking its name from Japanese, umami is a pleasant savory taste imparted by glutamate, a type of amino acid, and ribonucleotides, including inosinate and guanylate, which occur naturally in many foods. As the taste of umami itself is subtle and blends well with other tastes to expand and round out flavors, most people don't recognize umami when they encounter it, but it plays an important role making food taste delicious.
Porcini and Eggplant

Ingredients:
1 cup dried Porcini (Cepe), re-hydrated

1 medium onion - inch pieces

3 celery stalks - one inch pieces

1 large carrot - 3/4 inch pieces

1/2 cup green pepper - one inch pieces

1 smallish eggplant - un peeled, one inch cubes

1/2 cup tomato sauce

1/4 cup tomato paste

3 tablespoons red wine vinegar

12 green olives - pitted & halved

1 tablespoon capers - drained

1 small garlic clove

fresh ground pepper

Marjoram

1 teaspoon fresh parsley - chopped
Preparation
Lightly rub saucepan with garlic glove

Heat Olive Oil or Porcini Oil in large saucepan.

Add: onion, green pepper, celery, & carrots

Sauté until vegetables tender

Remove vegetables & set aside

Add a dash more Porcini Oil

Increase heat & stir fry eggplant

Lower heat

Stir in tomato sauce & tomato paste

Add cooked vegetables, olives, & capers

Simmer for 30 minutes, uncovered.

Flavor to taste with fresh ground pepper, thin with dry red wine if needed.

Add reconstituted, sautéed, Porcini

Place in serving dish
Serve serve warm or cool with French or Italian bread for 6 - 8 people to enjoy as an appetizer.

Pasta with Truffle Oil and Garlic
Ingredients:
| | |
| --- | --- |
| | 1 medium yellow onion- chopped fine |
| | 3 cloves garlic- chopped fine |
| | 3 table spoons olive oil |
| | 1 teaspoon truffle oil - white or black |
| | 1/4 cup grated fresh good quality parmesan cheese |
Preparation & Presentation:
| | |
| --- | --- |
| | Sauté onion and garlic in olive oil. |
| | Make sure onion is golden but garlic is not burnt. |
| | Boil pasta, in 3 quarts salted water with a touch of milk in the water, as well as a tablespoon of olive oil. |
| | When al dente, drain pasta, toss with onion and garlic. |
| | Add parmesan. |
| | Toss again and drizzle 1 teaspoon truffle oil on top of each individual serving. |
| | Serve immediately |
Enhancing Hint: A heavy oil, such as extra virgin olive oil, will hold a mushroom's flavor better than a light oil. Heating tends to drive off some of the volatile aromatic compounds that give the distinctive mushroom flavor. For maximum flavor, add Mushroom oils or stock near the end of hot dish preparation.
SHIITAKE FETTUCCINI
Sauté over moderate heat garlic and onion and white pepper in olive oil or butter until onion is softened then add Shiitake mushrooms and sauté for two more minutes. Do not over cook.

| | |
| --- | --- |
| | 4 oz. Fresh Shiitake mushrooms OR 1/2 oz. dried Shiitake |
| | Re-hydrate and Slice Shiitake |
| | chop 1/2 small onion |
| | 2 cloves minced garlic |
| | 1/4 tsp. ground white pepper (to taste) |
| | 1 Tbs. butter or olive oil |

Drain pasta and toss with Alfredo sauce and add Sautéed mushrooms while hot.

| | |
| --- | --- |
| | 1 lb. cooked fettuccini |
| | 1 cup Alfredo sauce |
| | 1 Tbs. grated parmesan cheese |

Sprinkle on parmesan cheese while hot, serve and enjoy.


Fresh Shiitake Mushrooms
Roasted Mushrooms with Onion, Garlic, and Rosemary
Ingredients Vegan Version:

15 ounces King Oyster mushrooms, sliced
5 to 8 cloves garlic, grated
1/2 red onion
2 sprigs rosemary, divided
1/4 cup extra virgin olive oil
1 teaspoon red wine vinegar

Directions:
1. Preheat oven to 375 degrees F. Line a cookie sheet with foil, and place mushrooms on it. Set aside.

2. In blender, combine grated garlic, onion, 1 sprig rosemary (remove stem), red wine vinegar and olive oil. Blend until mixed, but not smooth. You should be able to see pieces of onion in the mixture.

3. Spread mixture over the sliced (1/4 inch) mushrooms and use your hands to evenly coat. Sprinkle salt and pepper; place the other rosemary sprig across mushrooms. Fold foil over mushrooms to create an envelope and poke a few holes in the top to allow steam to escape.

4. Bake for 35 to 40 minutes. Remove rosemary sprig before serving.

This dish would be great as a side to rice or placed in pasta or served as an appetizer. This dish has lots of flavor. If you don't like sharp tastes, lessen amount of garlic and/or onion. You can use whatever mushrooms you like; simply adjust baking time on size of mushrooms.



Trumpet Royale Mushrooms
Gourmet Mushroom Products, P. O. Box 515 IP, Graton, CA 95444
(707) 829-7301 Fax: (707) 823-9091
E-mail
gourmet@gmushrooms.com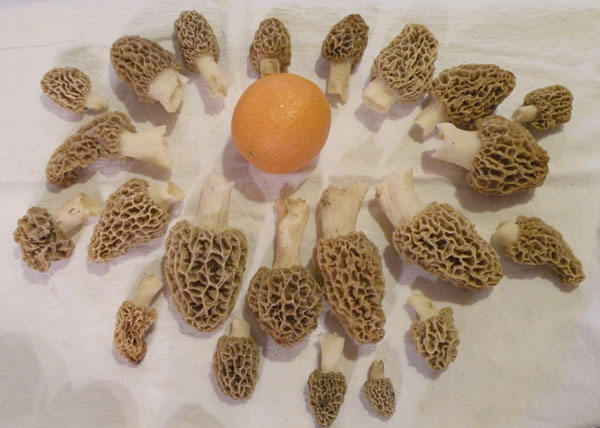 Morel Mushrooms - Photo by Lora Wasmer 2013


Copyright © 2000 - 2021