Shipping
Because of the biological nature of many of our products, orders are shipped weekly; each week all orders placed & received before 4 PM Pacific Time on Fridays are shipped on either Monday or Tuesday of the next week. You may choose to expedite your order (see below). We do not ship to AA, AE or AP
We do not ship Mushroom Kits to Canada, Overseas or Hawaii
- Products typically shipped within 1 - 6 working days -
You may request expedited shipping - Expedited order will be shipped the same or next business day and will incur a additional $5.00 service fee.
We offer Priority Mail & UPS Ground: shipping to most US shipping destinations. Normal Delivery methods used are via Priority Mail or UPS Ground unless otherwise specified. Due to the biological nature of many of our products, we ship at the beginning of each week. Orders received through Friday of each week are shipped on Monday or Tuesday of the next week. In 2021 both USPS & UPS again raised its shipping prices: Priority Mail,

US Postal Service Priority Mail is typically the shipping method which arrives the soonest and can be delivered on Saturdays, but orders experience a range of delivery times. Most orders are delivered very quickly (within two to four days), but USPS delivery time depends on distance, weather and internal USPS factors, and therefore cannot be guaranteed. US West Coast deliveries often arrive the next day and many US East Coast orders arrive in as few as two days. Inspect your package upon delivery for any damage; if your shipment is damaged note the damage with the driver immediately, this includes documenting any damage on the lay bill for all freight deliveries; USPS you may "refuse delivery" before opening shipping package and the package will be returned to us at no charge to you. Have your order number ready if you call for a speedy resolution.
UPS Ground usually takes 2 - 6 days to be delivered depending on destination. UPS delivery can take as long as 14 days regardless of destination if there is inclement weather. See map below.
Expedited Orders: There is a $5.00 charge for expedited Priority Mail Orders. Orders received before 3 PM will be shipped within 24 (business day) hours with out the expense of UPS Next Day or 2 day Air.
UPS NOTICE: These rates are based on UPS published rates and are to be used only as an estimate; total shipping charges may vary and may include additional UPS charges as well as handling charges imposed by parties other than UPS.
Shipping Surcharges: All shipping surcharges due to incorrect delivery address are the responsibility of the purchaser.

Mushroom Baskets have a separate shipping charge of $11.95 and are shipped Federal Express Next Day Air (USA contiguous 48 states). You may request a specific delivery day (Tuesday, Wednesday, Thursday, or Friday). FedX requires a contact phone number and someone must be present to receive the delivery. Shipped Overnight Federal Express to STREET ADDRESSES ONLY, PLEASE - *Mushroom Baskets have a separate, additional shipping charge if ordered with other products since they must be shipped separately.
Return Policy: Mushroom Kits may be returned for a refund of the purchase price. Other products which are returned in received in unused or undamaged condition may be returned for a refund of the purchase price. There is a $10.00 re-stocking fee. Products which are returned because they were received in a damaged condition will be replaced at no charge. Unused or unopened product can be returned after purchase; include a copy of your receipt or packing slip. This will ensure a speedy credit to your account. All returns must be received in unused or undamaged condition for a full credit. Inspect your package upon delivery for any damage; if your shipment is damaged note the damage with the driver immediately, this includes documenting any damage on the lay bill for all freight deliveries; USPS you may "refuse delivery" before opening shipping package and the package will be returned to us at no charge to you. Have your order number ready if you call for a speedy resolution. Customer service can be reached Monday thru Friday 9:30-4:00 PT or by email: gourmet@gmushrooms.com


order@gmushrooms.com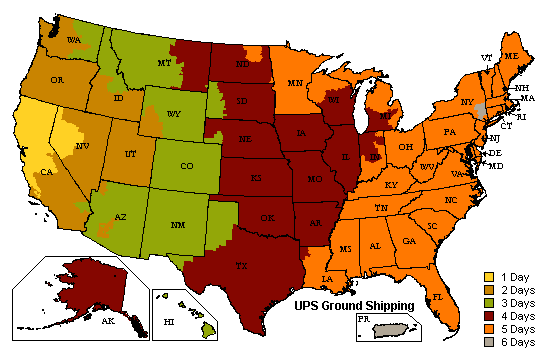 UPS Ground shipping time & destination map (above)